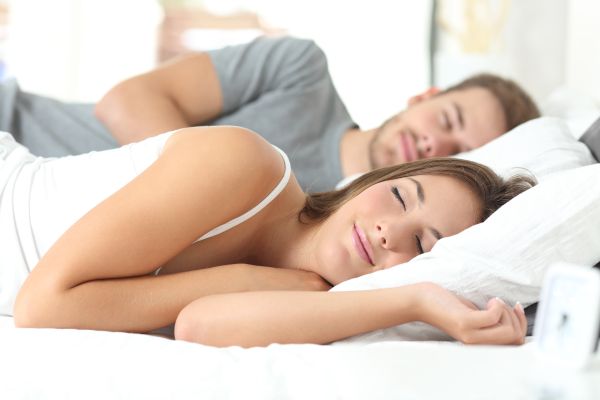 Oral appliance therapy is not a cure for sleep apnea, but it can be an effective treatment. Oral devices can prevent snoring and improve sleep in patients who have apnea. Learn more about how this process works.
How oral appliances work
Sleep apnea occurs when the airway is closed off, causing snoring and making it difficult to breathe. Oral appliance therapy uses an appliance to move the jaw forward when sleeping. This process increases the size of the airway, making it easier for air to get through.
The process for getting an oral appliance
Getting an oral appliance usually involves a three-step process. It is important to follow all the steps to ensure the treatment will help.
Start with a sleep study
A sleep apnea diagnosis must be confirmed before getting an oral appliance. Dentists can refer patients to a sleep clinic to conduct the study. During the study, the severity of the issue will be determined. Oral appliance therapy is typically used for mild to moderate cases of sleep apnea, although some people with severe sleep apnea use these appliances as well.
Get fitted for an oral appliance
Next, people will get a customized mouthpiece. Dentists take physical or digital impressions to create a model of the teeth. The dentist sends the model out to a lab. Then, the lab makes the mouthpiece and sends it back to the dentist.
People go to the dentist for a fitting once the mouthpiece arrives. Minor adjustments might be needed to make the device comfortable and effective.
Undergo a second sleep study
After the device is made, the dentist will arrange for a second sleep study. This time, the patient will wear the mouthpiece during the study to confirm if the mouthpiece works.
Using the appliance
In order for oral appliance therapy to be effective, people must wear the mouthpiece every night and during naps. They will also need to schedule follow-up visits with the dentist to ensure the device continues to fit properly.
Benefits of oral appliance therapy
These compact and portable devices are small enough to fit in a pocket, so travel is easy. They are also much more discreet than a CPAP. When the mouth is closed, the devices are not visible.
In addition, oral appliances do not require electricity. There are no plugs to use, which conserves energy.
Treating sleep apnea with oral appliances
Oral appliance therapy can treat sleep apnea when done properly. Get a sleep study first to make sure you are a candidate for an oral appliance. If you are, you can get fitted for a mouthpiece and then go to a second sleep study to ensure it is working. After that, keep your follow-up visits, so your dentist can check your oral appliance for issues and make sure it maintains a proper fit. Following these tips can help you get a restful sleep each and every night.
Request an appointment here: https://lincroftvillagedental.com or call Lincroft Village Dental Care at (732) 842-5005 for an appointment in our Lincroft office.
Check out what others are saying about our dental services on Yelp: Do I Have Sleep Apnea.
---
Related Posts
March 3, 2019
Getting your beauty sleep back is now easier than ever with all the different sleep apnea treatments available. Sleep apnea is a sleeping disorder that constantly interrupts the patient's sleep. When you fail to breathe …