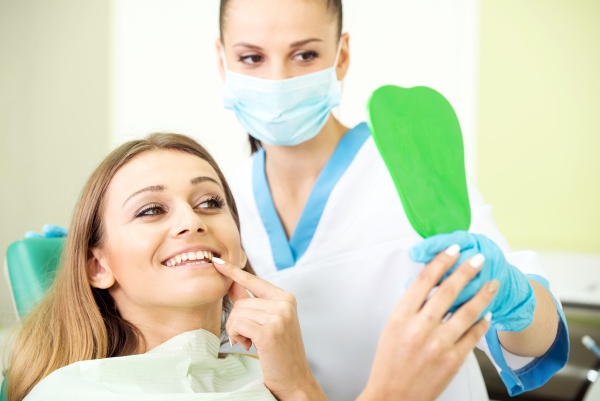 One of the most important things people should be doing to care for their overall health is working towards the prevention of periodontal disease, also known as gum disease. Left untreated, gum disease has been connected with higher risks of heart disease, diabetes and even strokes in patients. Thankfully, people at risk for gum disease have the option of taking steps at home as well as at the dentist's office to prevent this serious disease and lower the risks for further issues.
Easy actions to take at home
As doctors say, "an ounce of prevention is worth a pound of cure." People who take action to minimize risks of periodontal disease can benefit from better overall health.
Brush teeth multiple times per day
Most people learn how to correctly brush teeth as children, but it can be easy to slack off as busy adults. Aside from the improvement to the scent of one's breath, consistent tooth brushing is one of the most simple ways to minimize the risk of periodontal disease. Many dentists recommend that patients at least brush teeth for two minutes in the morning and evening, especially after eating.
Use floss and fluoridated toothpaste
Though it may seem easy or cheap to purchase basic toothpaste or avoid flossing altogether, an investment in fluoridated toothpaste and floss can significantly improve one's dental health. Fluoride has been shown to help prevent the decay of teeth. Floss can reach parts of the mouth that toothbrushes simply cannot access. By taking extra steps to remove the bacteria that causes gum disease, patients can improve overall health.
Visit the dentist for periodontal disease prevention
Dentists and dental hygienists are trained to recognize even the early signs of gum disease in patients, so it is a good idea to schedule dental appointments at least twice per year. This way, people can stay on top of periodontal disease and take action to correct any poor dental health habits at home. Regular cleanings by dental professionals can help keep a person's teeth in good condition.
Make healthy eating choices
Modern scientific studies indicate that people who consume diets rich in nutrients like Vitamin A and Vitamin C tend to develop periodontal disease less often than those with nutrient-deficient diets. In addition, people who eat large amounts of sugar and starchy foods are often more likely to suffer from gum disease. Therefore, making a commitment to swapping sweet or starchy foods for snacks rich in vitamins can help people improve overall dental health.
Put down the cigarettes and vapes
Recent medical studies suggest that vaping smokeless tobacco or smoking cigarettes and cigars can aggravate patients' mouths and put them at risk for periodontal disease. Some oral cancers have even been linked to smoking and vaping. By prioritizing gum health over urges for cigarettes or vapes, people can make better choices for their body.
Conclusion
Periodontal disease can sound frightening, but it is possible to take action against it at home. A commitment to better tooth-brushing practices and a healthier diet can greatly improve oral health.
Request an appointment here: https://lincroftvillagedental.com or call Lincroft Village Dental Care at (732) 842-5005 for an appointment in our Lincroft office.
Check out what others are saying about our services on Yelp: Read our Yelp reviews.
---
Related Posts
September 20, 2019
Life can be rough on teeth, but cosmetic dental procedures can come to the rescue. Through accidents, injuries and poor oral health habits or because of genetics, your teeth may not look the way you …