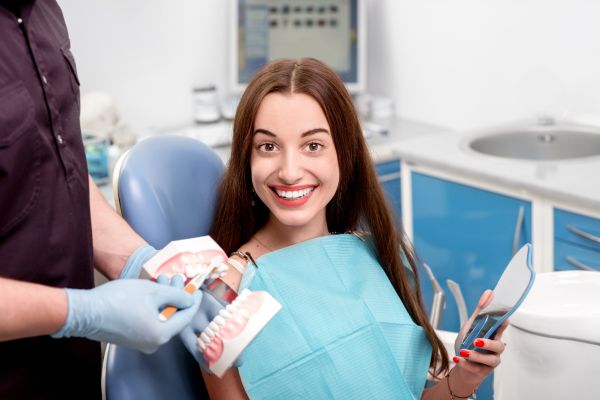 To be or not to be… that is the question, a question posed by the character Hamlet, in Shakespeare's play of the same name. It was a soliloquy or personal musing of Hamlet pondering the complexities of life and whether it is better to live or die… Hamlet was definitely not a guy who got a lot of invites to parties and happy hours.
However, people may ask themselves "to be or not to be" about the many choices that come our way. But making difficult decisions can be helped by objective knowledge and opinions from experienced individuals. Anyone who is considering the decision "to whiten or not to whiten" teeth should first consult with their personal dentist to see if a teeth whitening treatment is right for them.
Here, we present the facts to compare a dentist monitored at-home teeth whitening treatment vs. an in-office whitening procedure, as well as other self-administered home whitening options.
At-home teeth whitening
The home whitening treatment monitored by a dentist consists of a custom-made whitening tray to fit the patient's teeth. As with the in-office professional teeth whitening administered by your dentist, the patient will be provided a comprehensive exam of teeth and gums and a professional cleaning and polishing to remove all debris from teeth. At home, the patient places the controlled dose of 10 to 20 percent carbamide or hydrogen peroxide into the custom-fitted whitening tray, wearing the tray for two hours during the day or while sleeping.
Glycerin, Carbomer, sodium hydroxide, water and flavoring are part of the solution. If the peroxide gel is more than 10 percent, sodium fluoride is added to strengthen teeth and reduce sensitivity to the solution. With at-home dentist supervised teeth whitening, the results can begin to show in as little as two weeks or as long as six weeks if stains are abundant.
In-office teeth whitening
In contrast to the home whitening system monitored by a dentist, there is an in-office teeth whitening option. The in-office professional cleaning will use a 15 to 35 percent concentration of the hydrogen peroxide gel and sometimes use a special UV light to expedite the bleaching of the teeth. Before proceeding, care is taken to protect the gums. The whitening process involves placing the hydrogen peroxide on each tooth with a pen or brush, waiting 10 to 15 minutes, then with a special vacuum, taking the gel off and then reapplying a new layer of gel. This repetition is done up to three times and can result in the teeth shade being lightened up to 40 percent. After just one 60-minute office visit teeth can be four to six shades lighter.
Over-the-counter home teeth whitening
When working without the supervision and expertise of a professional dentist, a person can choose to
buy the least costly whitening system. However, this option comes with the risk of injuring teeth and gum tissue as
there is not always a lot of instruction in the regulating of the peroxide whitening agent.
Call us now to learn more
If you are wondering which whitening treatment would work best for you, do not hesitate to call us and learn more about your options.
So…
Request a dental appointment here: https://lincroftvillagedental.com or call Lincroft Village Dental Care at (732) 842-5005 for an appointment in our Lincroft dental office.
---
Related Posts
May 5, 2019
Professional teeth whitening has many benefits that may make at-home whitening treatments seem subpar in comparison. While you may be tempted to try out one or more of the many over the counter teeth whitening …
---