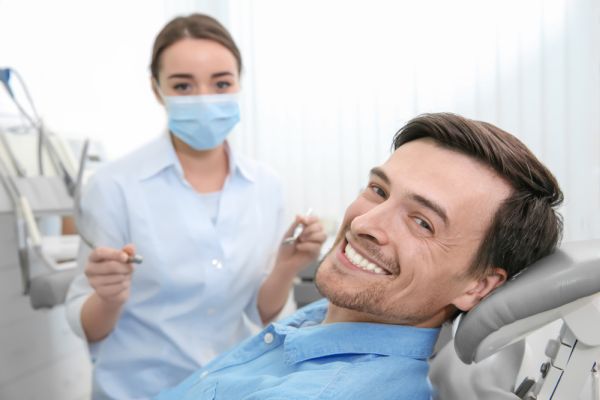 Professional teeth whitening has many benefits that may make at-home whitening treatments seem subpar in comparison. While you may be tempted to try out one or more of the many over the counter teeth whitening options available these days, understand that these options are not going to work as well as a professional treatment.
At-home treatments are more geared towards helping someone maintain their white teeth versus making their teeth many shades whiter and brighter overall. The fact that every whitening product is going to contain its own type and amount of teeth whitening ingredients makes it necessary for you to understand how each product is going to directly affect you. When you choose a dentist to professionally whiten your teeth, they already know exactly what to do and what is the best way to whiten your teeth safely and effectively.
5 benefits of professional teeth whitening
The following is a list of five benefits that come with professional teeth whitening services.
#1 – Professional whitening treatments are customized for every patient
Over the counter teeth whitening options are not customized and instead, offer those who want whiter teeth a one for all option. Dentists offer their patients' customized teeth whitening options, which allows for a much more natural look.
#2 – Patients can have their teeth whitened in about one hour
Dental patients who choose to have a dentist whiten their teeth can have the entire process done in about 60 minutes. There is usually no need for any further services until their next teeth whitening appointment, which is a decision made by both the dentist and the patient.
#3 – Professional whitening treatments last much longer
Depending on a particular patient's certain lifestyle habits, they can expect their professional teeth whitening to last anywhere between one and three years. Factors that come into play that warrant more frequent whitening treatments include smoking, drinking coffee, drinking tea, red wine, soy sauce and berries.
#4 – Access to a dentist
Dental patients who choose a dentist to provide them with teeth whitening services can ask the dentist any questions they have regarding the teeth whitening process. This personalized information helps educate the patient, allowing them to take better care of their overall oral health. The dentist can also provide information on how to maintain a white smile or what to do for sensitive teeth due to whitening.
#5 – Peace of mind
Choosing professional teeth whitening services give patients peace of mind. They know that a dentist will provide them with the safe and comfortable teeth whitening services that they need and deserve to ensure a bright white smile.
Ready for your professional teeth whitening?
If you are ready to take the next step toward whiter teeth, call our office to get started. Our dentists are specifically trained in how to whiten our patients' teeth, allowing them to have a very natural and pleasant-looking smile.
Are you considering teeth whitening services in the Lincroft area? Get more information at https://lincroftvillagedental.com.
Check out what others are saying about our services on Yelp: Read our Yelp reviews.
---
Related Posts
September 20, 2019
Life can be rough on teeth, but cosmetic dental procedures can come to the rescue. Through accidents, injuries and poor oral health habits or because of genetics, your teeth may not look the way you …